We have large capacity production facilities that offer the highest standards required by the industry, and covered by European Community certificates that guarantee high level of service.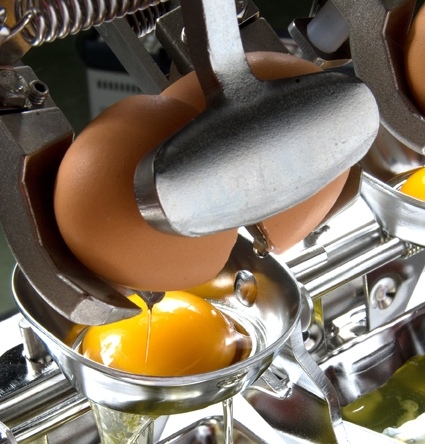 It all started with an egg… 
Consuma Sp. z o.o. produces powdered egg in a newly opened production facility. The entire production process is fully automated. The modern technological line is the latest achievement of solutions provided for the egg processing industry. The production process consists of the following steps: breaking up of fresh eggs, separation of egg content, filtration, pasteurization, cooling, drying, packaging and storage of finished products. Each stage of production is carefully controlled and monitored. The production line is washed automatically in the CIP system and the final product is stored in the warehouse.
All of these production features make our plant competitive on the market in the egg processing industry. The entire production stage is subject to hygienic – sanitary and veterinary inspection.
Our quality
In the field of quality, we want to be perfectionists and we emphasize the high quality of the product from the very beginning, therefore the following quality systems have been implemented in our company:
Hazard Analysis and Critical Control Points HACCP
IFS International Food Standard
BRC
Wanting to offer the highest quality products with a wide range of applications in the food industry, Consuma Sp z o.o. also specializes in the trade of other food additives. We are a distributor, egg yolk and protein powder as well as milk powder, cocoa powder and a spice palette.
We always take into account the needs of consumers and changing trends in industry, which makes us the first producers in Poland of a range of powdered egg products that have become an alternative to traditional eggs and powdered eggs. These products are intended for specific market segments, such as the production of waffles, pasta, noodles, mayonnaise, sauces, dumplings, pancakes, cakes, cakes and many others.
Our many years of experience and constantly changing conditions of the food market have prompted us to open a new plant with an advanced production line, where we produce freeze-dried fruit and fruit fibers.
We constantly conduct a policy of implementing and developing innovative ideas and production processes in order to adapt to current trends and to be up to date with the latest world concepts.